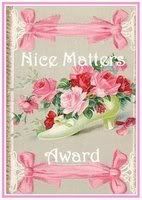 My dear friend Gracie tagged me with this pretty little award! This is what she said about me, and I'm still sitting here blushing about it :)
"This lady has one tender heart and took some pretty difficult steps recently in her life. She works hard and is a full-time people-pleaser. People gravitate to her because of her warmth and wittiness - all in one package!"
Thanks so much Gracie, you're one nice lady yourself, and it's an honor that you thought of me to pass this along to! And now the hard part.. who am I going to give this to.. let's see.
Morgen - This guy is one of the nicest bloggers it's ever been my pleasure to know. He always makes time to wish Happy Birthday to his friends, he makes room on his blog to help baby kitties get adopted, and if you've ever listened to his Blog Talk Radio show, you can hear that he's a lot of fun to talk to!
Linda - Also known as the "Epic Mom", Linda is a really great person. Despite financial troubles, she always manages to do the sorts of things for her daughter that every girl would love. Most recently, she took her daughter to see her absolute favorite band, and stayed up until all hours of the morning to give her the chance to meet and talk to one of the band members, as well as her friends and fellow fans. She also made a heartwrenching post yesterday about her best friend, and the difficulties she faces with her decision to place her 20-year-old autistic son in a home, after caring for him herself for his entire life. Who wouldn't want a friend like that?
Rebecca - Even if you haven't read this awesome lady's blog, you may know her story. Her daughter Andi was abducted and brutally murdered in 1999. The fact that Rebecca survived her grief is amazing enough in and of itself, but she has made of her life a crusade to protect and help other parents and children from that horrible fate. She has appeared on Oprah, and most recently her daughter's story, and the stories of several other families were published in People magazine. I am honored to call her friend.